While Superior National at Lutsen is known to be one of Minnesota's must-play courses, it's also one of the most visually stunning. Pack your camera or have your smart phone ready—every turn is picture-perfect.
A trip to this majestic setting raises the game for golf outings even among the sport's connoisseurs. But the beauty of Superior National is that anyone, regardless of skill, will experience a memorable day (or days) on the course.
Think of Superior National, and the surrounding communities of Lusten (where the course is located), Tofte, and Shroeder, as the ultimate hack from the daily bustle. Travel here to get away from it all without having to get away from it all.
This getaway is ideally situated in the center of the country, and within driving distance of Duluth, Minnesota; Minneapolis; Chicago; and other Midwest hot spots. After all, what good is a relaxing trip if travel is an inconvenience?
Indeed, there's never a bad step on Superior National's grounds. Upon arrival, you'll be surrounded by mountains; the Poplar River; and, of course, the greatest lake of them all: Lake Superior.
First and foremost, Superior National is home to Minnesota's finest golf. It is also the centerpiece for a vacation for the whole family. Cook County is truly a four-season destination with outdoor adventures no matter the weather. The vista, painted by the waters' perfect shade of blue, the snowcapped Sawtooth and Lusten mountains, and the course's vivid green surface, is enough to have any visitor humming "America the Beautiful."
The grass really is greener at Superior National. Here, we walk you through why visitors will have a whole lot of fun in this one destination.
A River Runs Through It
Words can't do justice to the views from the Canyon Course's 15th hole. The Poplar River cuts through the back nine. Golfers will sink or swim here, as there is just as much promise for a birdie as there is for a water hazard. One thing is certain: Visitors will come up aces exploring Cook County's mix of offerings. There is just as much to do on land as there in the water. Kayaking, canoeing, and fishing make for memorable bonding activities perfectly suited for families or a guys' or girls' trip.
Lake Show
You can watch TV or a movie at home. Here, Mother Nature takes top billing. Just look at this sunrise over Lake Superior. Travelers seeking some serenity will find Superior National fits them to a tee. Unplugging isn't a requirement, but why distract from the view. Listen to the sounds of nature while gazing up at the stars. This area has some of the darkest skies in the United States—you can't get a view like this in the city. And if you time it right, you can see the northern lights, an experience that will last a lifetime. The only thing better than your fairway drives will be cruising along the scenic byways and highways in Cook County. When we say traveling here is enjoyable, we mean it!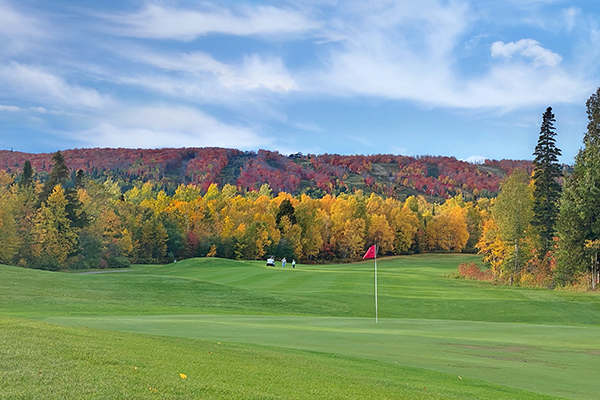 Season's Greetings
There's never a bad time to pick up your clubs here. The fall foliage photobombing the Canyon Course's 18th and final hole is a true scene stealer. The Sawtooth and Lutsen mountains, seen here, make for more than a pretty backdrop. Hike the hills, ride a mountain bike for a thrill, or ski the slopes when Jack Frost pays a visit (he has an annual pass).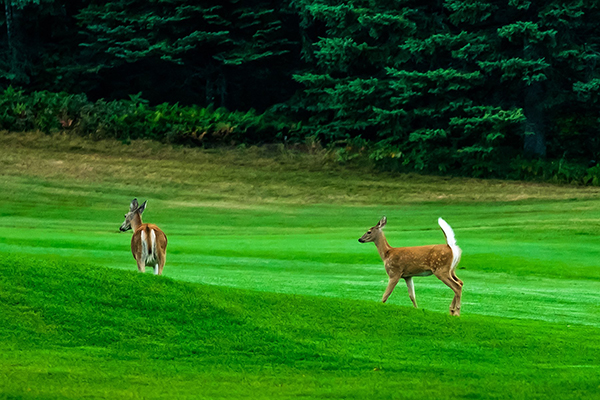 Call of the Wild
White-tailed deer romp on the fairway—just a taste of what awaits you in this truly unique setting. It's not uncommon to spot a moose, bear, fox, wolf, coyote, and snowshoe hare enjoying the grounds almost as much as you. Pro tip: Bring binoculars for some truly spectacular birding (bald eagles are frequent flyers here). Be sure to continue your exploration hiking on the Superior Hiking Trail, which cuts through Temperance River, George Crosby Manitou, and Cascade River State Parks. You're never a few feet from adventure!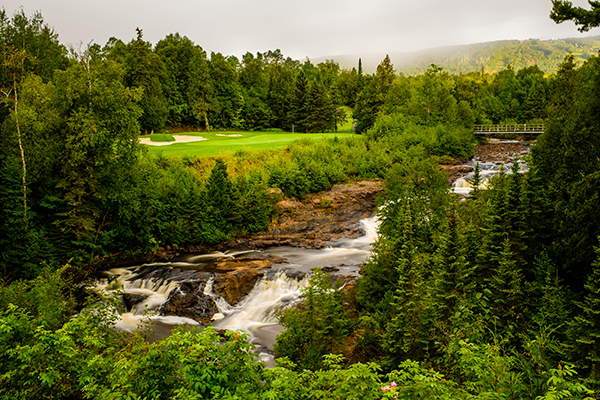 Awash With Activities
The Poplar River cascades through the early holes of the famed River Course. The front nine is a challenging but exhilarating set marked by elevation changes. Each hole tells its own journey, just as each day will be a new and memorable experience for you. Find first-rate lodging and restaurants in Schroeder, Tofte, and Lutsen, often referred to as the southern gateway to Cook County. Guided tours showcase hidden gems, including agates adorning Lake Superior's beaches, or you can choose your own adventure with self-exploration.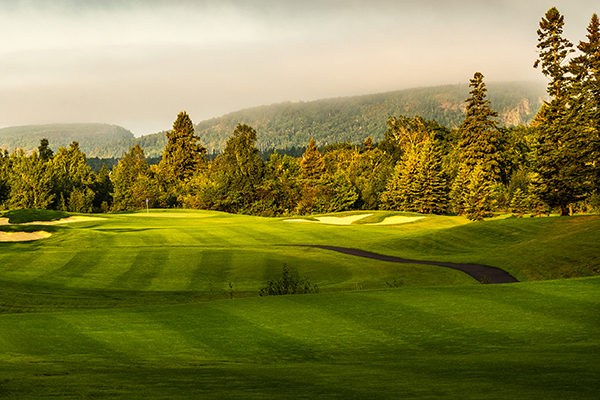 Rising to the Top
The sun catches the greens while haze floats to the Sawtooth Mountains. Spying different ways to capture the scenery is a pastime here. One idea is to catch the Summit Express gondola ride at Lutsen Mountains. One of the North Shore's most popular attractions, the gondola takes visitors to the top of the mountain, where the Summit Chalet is available for a snack and drink. Spring and summer are especially popular times for the ride, which often incudes the chance to spot moose and other wildlife. While a ride in the fall is the perfect way to see the brilliant colors of autumn from the top of Moose Mountain.
A Breath of Fresh Air
Yes, you can take some spectacular shots like this with your phones at Superior National. Just don't spend too much time on that device. It's a rare treat to find a destination so in tune with its natural surroundings. Beauty is often in the eye of the beholder, but who would not find the luscious forests and streaming waterways gorgeous? A trip to Northern Minnesota is worth unplugging for. You'll feel refreshed no matter how hard that daily grind has been.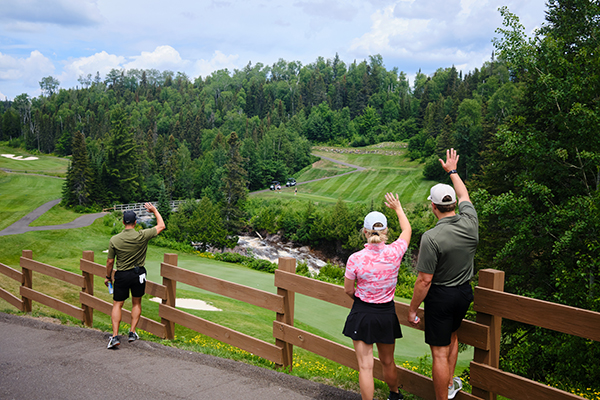 Say Birdie
The 16th tee on the Canyon Course is a perfect location for group photos. The tee box overlooks the 14th and 15th holes with the Poplar River running in between. This may be the most picturesque spot on any Minnesota golf course. Friends and families enjoy a trip to Superior National just as much as any golfer. After one visit, the next question is when you will be back. It's never goodbye here—it's "See you later!"
—
Superior National is the centerpiece for a vacation you and your friends and family will never forget. Where else can you discover wildlife, enjoy majestic mountains, explore a beautiful river and Great Lake, and play the best golf of your life? Come see for yourself what makes this destination a hole-in-one.