Mark Twain must not have teed off at Superior National at Lutsen when describing golf as a "good walk spoiled". There is nothing that can take away from this unique golfing experience offered in Northeast Minnesota. It is simply majestic.
From the perfectly manicured courses to the scenic views and unbeatable nearby lodging, Superior National lives up to its billing on the shores of the greatest of the Great Lakes. Well suited for everyone from the veteran hacker to novice (and below), this venue is a true hole-in-one.
Come play serious golf and get treated like a champion. We will take great care of you -golfer or not – and you can feel at home at Superior National. We will make you smile, regardless of whether you are shooting birdies or bogeys, and be assured, our staff will make you feel like a winner.
Read on to see how we split the sand traps, avoid water hazards and go for the green with all our guests. Fittingly, here are nine reasons you'll come up aces at Superior National, a mountain-based treasure in Cook County, Minnesota.
---
Great Courses
Normally, the higher above par you get in golf, the worse it is. Not so when talking about the legendary Superior National course and its nine-hole cousin also on-site. Superior National, comprised of the River, Canyon 18-hole and Mountain 9-hole courses, is regarded as one of Minnesota's top 10 golf courses for good reason. And it keeps getting better. Renowned golf course architect Jeffrey Brauer completed a $4.6 million renovation on the River and Canyon courses in 2018. With the world fully reopening, now is the chance to see it for yourself.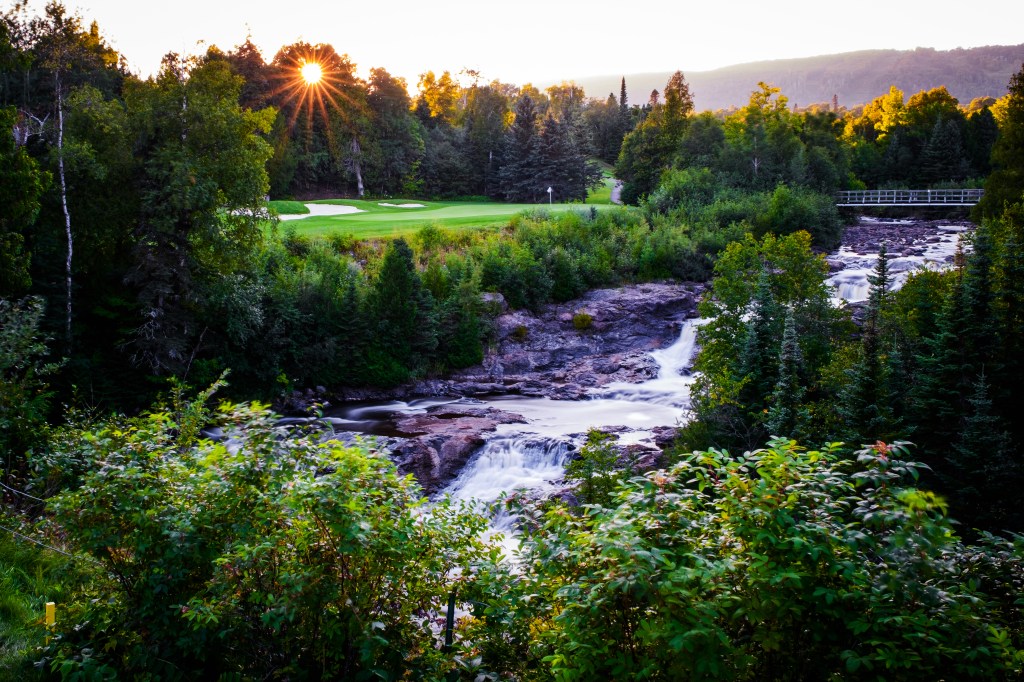 Great Setting
There are many picturesque courses in the country, but none quite like Superior National. As if the mountain range and Lake Superior aren't enough for natural beauty, Mother Nature upped her game here. As a certified Audubon Cooperative Sanctuary, Superior National embraces our furry and feathery friends. Deer, fox, timber wolves, owls, bald eagles and moose have taken a liking to our links. It's part of what makes this a true living, breathing experience versus just another round.
Great Lake
You'll be sure to want to get your feet wet at Lake Superior, the world's largest freshwater lake (31,700 square miles). Your family will love to cool down on a summer day with an invigorating swim. Sailing, canoeing and other boating options allow for great exploration and the perfect backdrop for Instagram posts. Talk about relaxation!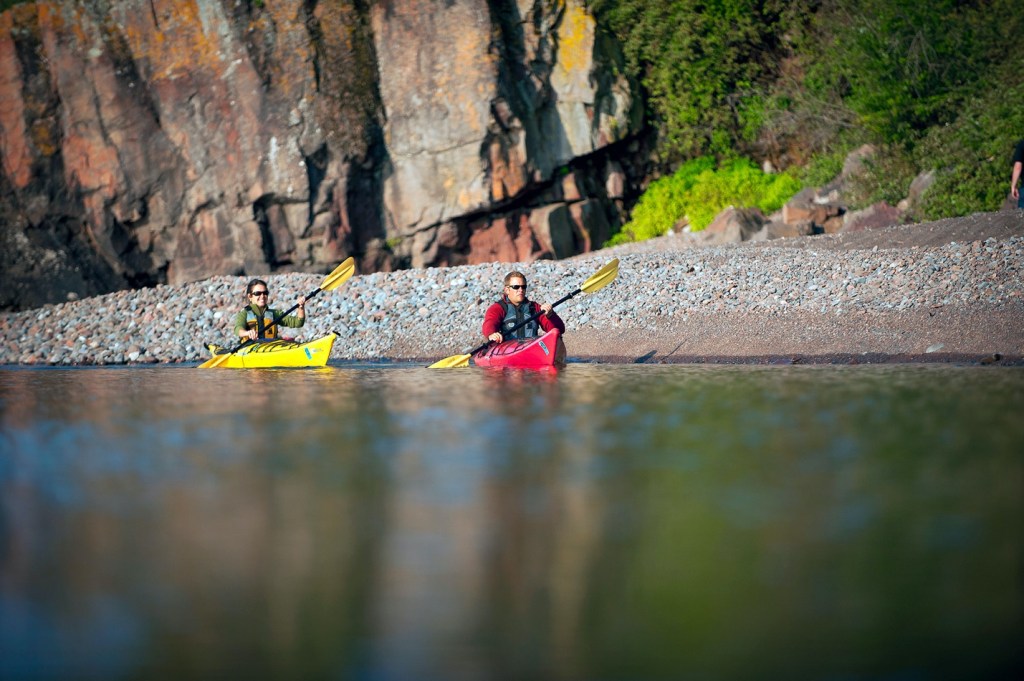 Great Fun
Soccer lays claim to being the beautiful game. But what if you meshed the best of that sport with Superior National's surroundings? You'll enjoy the most memorable round of foot golf you'll ever play. What's foot golf? Glad you asked. Players trade in their clubs for shoes and drive and putt soccer balls toward an enlarged hole on the green. Kids will definitely get a kick out of this offering on our Mountain 9 course, and so will you, even if you're a traditionalist by nature.
Great Amenities
As much as you may wish you could spend your entire stay on the fairways and greens, there is much more on offer at Superior National. The Clubhouse, complete with a fireplace, has a warm atmosphere for reflecting on good times—like your last round—or simply reflecting on this unique experience. Order a burger or sandwich at lunch and round it out with a local brew we have on tap. This is a great opportunity to soak in all that nature we've been talking about. In the winter, have a swing on the golf simulator.
Great Deals
Junior golfers (15 and under) can play 9 holes for free with the purchase of a regular adult round on the Mountain course. Make this the place where parents and children turn golf into a family tradition.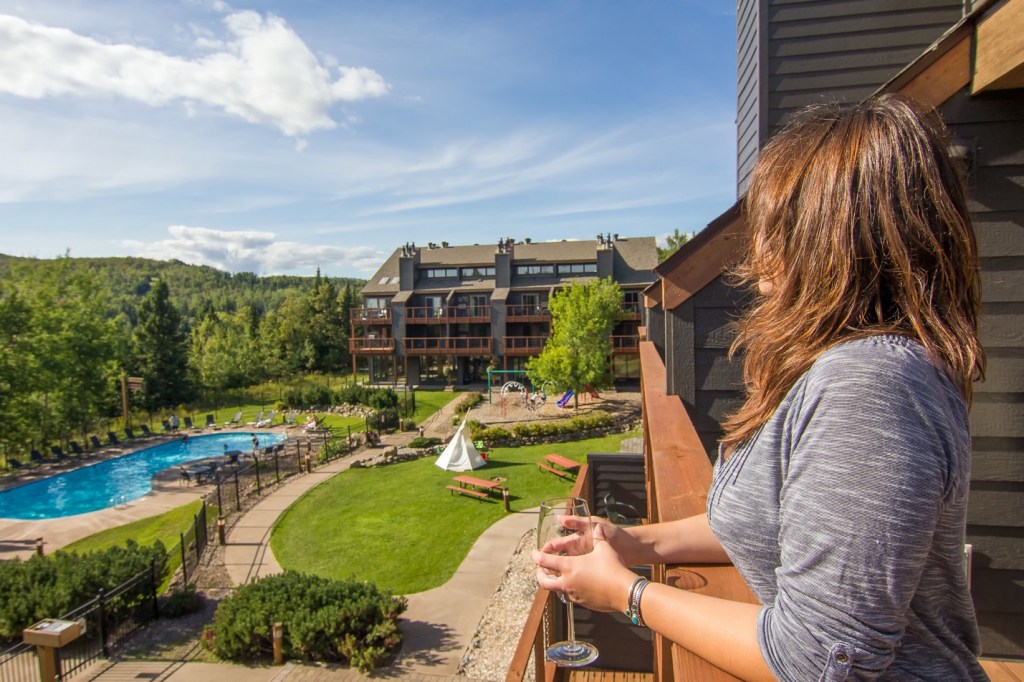 Great Lodging
Ask about "Stay and Play" golf specials when you book at select locations in Cook County.
Caribou Highlands Lodge, featuring indoor and outdoor pools and an on-site restaurant;
Eagle Ridge Resort at Lutsen Mountains, featuring studios and condominium units with breathtaking views;
Mountain Inn includes on-site massages and a storybook setting by the Sawtooth Mountains;
Bluefin Bay Family of Resorts offers a trio of options—Bluefin Bay on Lake Superior, Surfside on Lake Superior and Temperance Landing—7 miles from the course;
AmericInn Lodge & Suites Tofte – Lake Superior serves complimentary breakfast before your day of outdoor fun;
Lutsen Resort is an elegant option a mere half-mile from Superior National.
Great Escapes
Hunting, berry picking and an alpine slide are just some of what awaits Cook County visitors taking a break from the links. With a setting so beautiful, you'll want to enjoy the fresh air and outdoors as much as possible. Another popular attraction is The Summit Express Gondola ride at Lutsen Mountains, which glides from summit to summit, offering views of some of Cook County's most dramatic scenery.
Great Dining
Did someone say world-famous doughnuts? How about pizza and fresh fish? These are all great catches washed down with local craft beers or at our native wineries and/or cidery. You'll leave with a great taste for our region!
---
Are you ready to tee off yet? Just remember, as spectacular as it may sound, there is nothing like playing Superior National in person. You'll feel spoiled with the experiences that await you. Grab that driver of yours and set out for a superior trip.